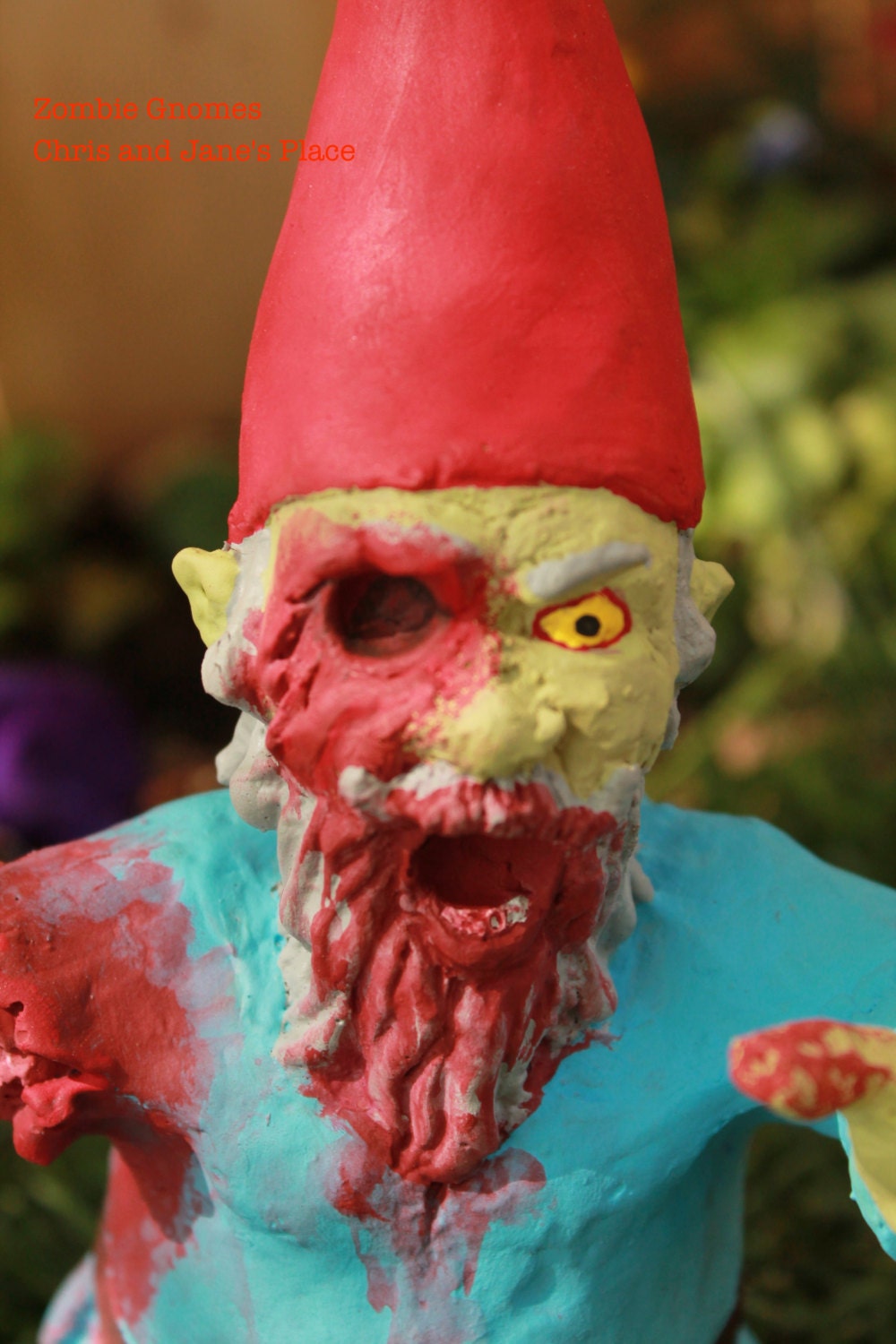 THIS is the gnome the winner will receive! Isn't he just darlin'?
If you're on facebook (and who isn't), you may have seen a pic of zombie gnomes eating a flamingo floating around on a few of the horror themed pages (if not, look below). If so, then you've already seen the stunning work of artists Chris Stever and Jane DeRosa of the Etsy shop
ChrisandJanesPlace
.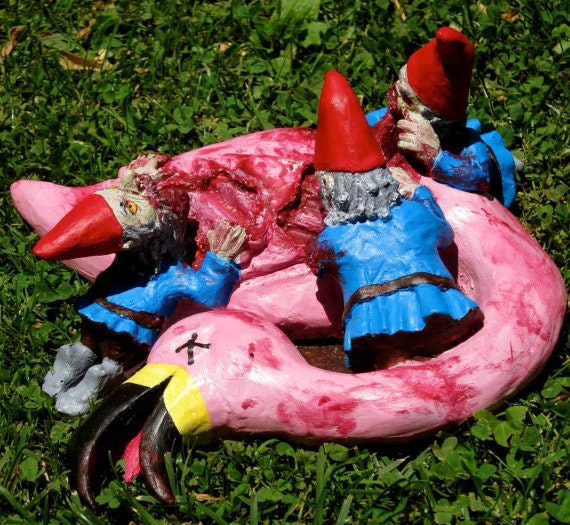 This takes lawn decoration to a whole new level. Who need pink flamingos and toadstools when you could have the goriest garden on the block! These gorgeous sculptures are hand painted and hand cast using a proprietary cement blend and sealed with all purpose outdoor weather sealer to protect their glorious paint job. Their shop has beautifully detailed zombie gnomes that are both very well made and affordable (with a wonderfully detailed zombie gnome head ornament selling for just $10.99!). Plus, if you live in the US, shipping is FREE on all orders! Can't get very much better than that. Each one is really a work of horror art that everyone should check out...which brings me to the giveaway!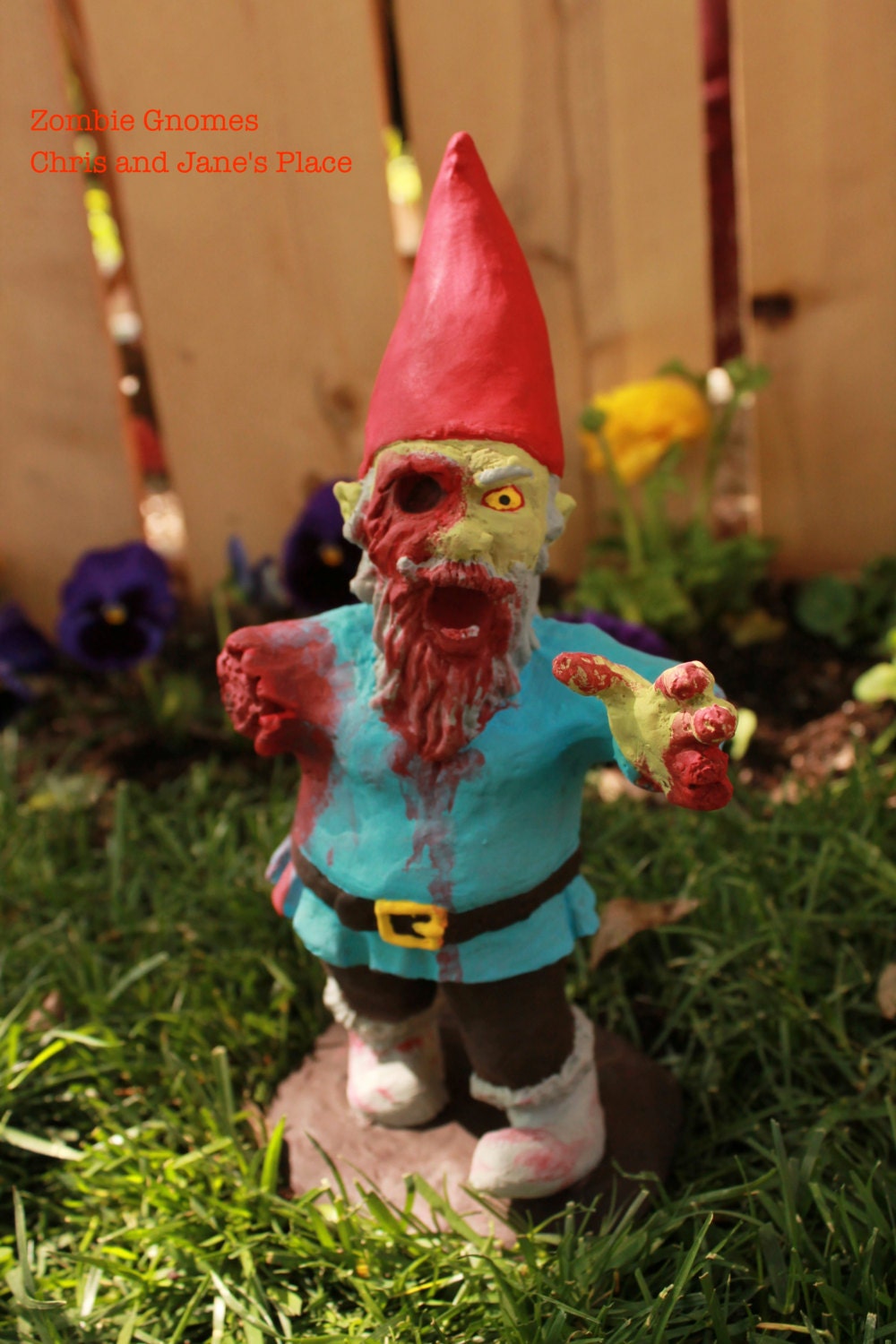 Another image of the prize this time around
So what is the prize for this giveaway? Well Jane and Chris have graciously given one lucky DBH reader the chance to win one of their
Patient ZERO.5 zombie gnomes
(as seen pictured above with the caption)! This gnome stands at 10 1/2 inches and is perfect for the flower garden (and even better at keeping annoying and prying neighbors at bay)! Like all of their gnomes, it is hand cast and painted and sealed to protect it's color. The detail in it's missing eye and severed arm makes this little beauty both charming and disgusting all at the same time. If you wanna take this little friend home, all you have to do is go to
http://www.etsy.com/shop/ChrisandJanesPlace
and them come back to THIS POST and leave a comment below, with your name and email address, telling me which of the 19 zombie gnomes is your favorite! The winner will be randomly chosen (names out of a hat) 2 weeks from today (June 14th) and announced here on the site. Seriously folks, it's THAT easy...AND we have chances for EXTRA ENTRIES!!! You get 1 extra entry (your name in the hat again) each for liking Chris and Jane's Place's Facebook page (
https://www.facebook.com/ZombieGnomes
) and following them on Twitter (
https://twitter.com/ZombieGnomes
)! So you could have a total of 3 entries just by clicking your mouse around and leaving a comment!!! Again, the winner is chosen and announced on June 14th so hurry and enter before someone else wins! Good Luck!!!